A Memory Foam Mattress Designed for Athletes and Active Lifestyles
Great for:
Back, Side & Combination Sleepers
Those That Sleep Hot
Those That Need Zoned Pressure Relief
Couples & Motion Isolation
Type – Memory Foam
Firmness – Zoned Support
Sleep Trial – 100 Night
Warranty – 10 Year
Shipping – Free Shipping & Returns
Get 20% Off With Code ASL20
Zoma is a performance-enhancing sleep system geared towards athletes and sleepers with active lifestyles. Understanding that optimal sleep is key to faster recovery and peak performance, the Zoma mattress features gel-infused memory foam and zoned support to help you achieve a deeper sleep, but is it right for you? Discover who we think will benefit most from Zoma and why it stands out from the crowd in our full Zoma mattress review.
How Sleep Affects Your Performance and Recovery
Deep Sleep, or Non-REM sleep, is a key component in muscle recovery. In this phase of sleep growth hormone is secreted, aiding in tissue repair, and regrowth. A lack of NREM sleep can decrease muscle mass and negatively impact your strength and endurance.
REM sleep, on the other hand, is the phase of sleep that restores the brain, improving muscle memory and mental awareness, resulting in better athletic performance. So, if you've been struggling with your next performance goal, or just want to maintain your peak performance, getting a good night's sleep should be as important as your workout routine and diet plan. Keep reading as we explore why the Zoma mattress could be a great fit for your performance and recovery.
Zoma Mattress YouTube Review
Zoned Construction of the Zoma Mattress
At eleven inches thick, the Zoma mattress is a comfortable height that allows it to be used with most foundations (including adjustable bases). The mattress is made of three layers of advanced foam and uses a poly-blend cover with elastane (a very elastic material) to help promote airflow. But what we really like about the Zoma is the way it uses each layer of foam to provide better support and comfort.
The first layer, which is gel-infused memory foam, is three inches of Zoma's Triangulex™ material. Triangulex™ consists of hundreds of triangle-shaped cutouts that work to provide cushion and pressure relief to sensitive areas such as your shoulders. These cutouts also work as air channels, reducing the risk of your Zoma mattress becoming a heat trap. 
The second layer is two inches of a highly-responsive poly-foam layer called Reactiv™. Reactiv™ is a latex-like layer of foam, giving you bounce and helping prevent any "sinking in" feeling people often associate with memory foam mattresses. 
The third and final layer is called Support+. This seven inch core layer helps support the two layers above and helps support and promote optimal spinal alignment.
Firmness and Feel of the Zoma Mattress
Zoma provides a classic memory foam feel. While the Triangulex™ layer of memory foam does have a slower response rate (typical of memory foam), the Reactiv™ layer certainly does help prevent you from feeling "stuck" in the mattress. At the same time, we experienced all the contouring characteristics memory foam is known for. Zoma is truly one of those mattresses that manage to strike a real balance between pressure relief and support.
Overall, we would rate Zoma around a 6 (medium) in regards to firmness. This is, of course, subjective as everyone tends to experience firmness a bit differently. Your height and weight can also play a large role in how firm or soft you perceive a bed to be.
Which Sleep Position is the Zoma Mattress Best Suited For?
The zoned support also creates variants of firmness in the different zones, for example, the head and shoulder region is more of a medium-soft feel, while the center of the bed offers a more medium to medium-firm feel. The zoned construction provides targeted pressure-relief to the areas your body needs it most, particularly through the shoulders, all the while, retaining a firm, supportive center for your lumbar. As such, we think the Zoma mattress could be a great fit for side sleepers, as well as back sleepers and combination sleepers. Stomach sleepers, on the other hand, may find that Zoma is still a bit too soft to keep the hips from sinking in
Does the Zoma Mattress Sleep Cool?
Zoma is designed to help you sleep cooler; the Triangulex™ foam features an advanced open-cell structure that increases airflow and breathability. This layer is also infused with gel to help mitigate heat that can commonly become trapped inside memory foam. To top it off, the Zoma mattress cover is ultra-breathable and wicks away moisture. Overall, we felt Zoma provided a temperature-neutral sleeping experience, making this a good option for hot sleepers.
Is Zoma a Good Bed for Couples?
We think the Zoma mattress is a solid option for couples. If you find yourself waking up every time your partner gets up for a drink, or a bathroom break, then it may be time to think about a mattress that helps to dampen noise and movement. Like most memory foam mattresses, Zoma does an excellent job of isolating motion. You should find yourself relatively undisturbed by any movement from your partner while sleeping on Zoma.
Surprisingly, Zoma also exhibits good edge support. I say surprisingly because often memory foam mattresses tend to fall a bit flat (literally) as you move towards the edges of the bed. For couples sharing a bed, this can make the bed feel even smaller. With Zoma this wasn't a problem. Lying on the edge of the mattress you could feel some mild compression but I never felt as if I was going to fall out of the bed. This allowed my husband and me to utilize the full surface of the mattress, creating a feeling of more space. If you sleep on a king or California king, this isn't likely to make a large difference. For couples sleeping on a full or queen-sized bed, however, this can make a tremendous difference.
Do I need a Specific Mattress Foundation for Zoma?
Most bases and foundations should work with your Zoma mattress. We do always caution that when choosing a slatted base to keep the slats less than 2 or 3″ apart. Zoma does NOT recommend the use of box springs with their mattress. In fact, using a box spring may be cause for voiding the warranty. If you do decide to use a box spring, Zoma recommends placing a 0.75-inch piece of moisture-resistant plywood on top.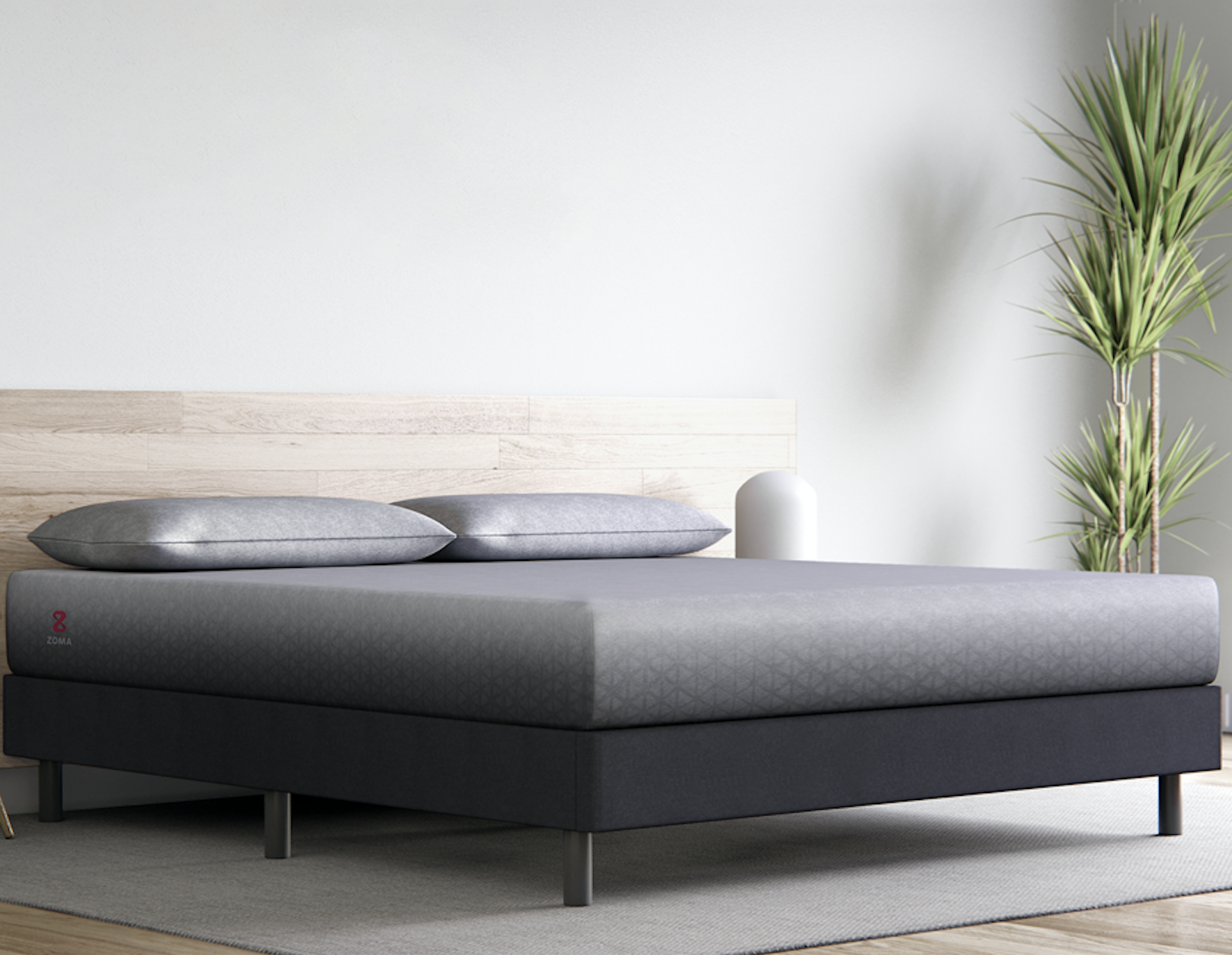 The Sports Mattress - $950.00
from:
Zoma
Zoma Sleep Trial and Return Policy
Zoma offers a risk-free 100-night sleep trial on their mattress. Simply put: you get to try the Zoma in the comfort of your home for 100 nights. If, during those 100 nights, you decide the this mattress isn't right for you, you can return for a complete refund.
As always, we recommend trying a new mattress for at least 30 nights to let your body adjust to its newfound support. 
If you decide the Zoma mattress is perfect for you, your new bed is protected by a 10-year warranty. When it comes to mattress warranties, the most important part is the sag. If your Zoma mattress develops a sag of greater than .75 inches within 10  years, it is considered defective and you are eligible for a free replacement.
Whether you are an athlete or just looking for a mattress to provide you with better sleep, there is a lot to be excited about with Zoma! We think it's likely to please a large audience including side, back, and combination sleepers, as well as couples and hot sleepers. Designed to help facilitate faster recovery, Zoma packs a punch and provides excellent value at a budget-friendly price.