The Sleep Number i8 vs. The Air-Pedic 800 Mattresses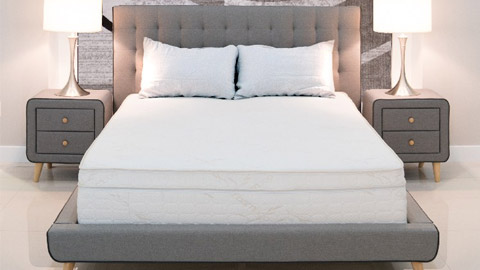 A Comparison Of The Sleep Number 360 Smart Bed vs Popular Sleep Number Alternative Air-Pedic
When you think of an adjustable air mattress the first company that might come to mind is likely Sleep Number. But before you rush off to purchase a brand new Sleep Number bed, you may want to take a look at popular Sleep Number alternatives, such as our personal favorite, Air-Pedic. Made by Selectabed, Air-Pedic (like Sleep Number), is a luxury adjustable air bed. In our Sleep Number bed review and comparison, we'll delve into these two popular brands to find out which one is right for you. But first, let's talk a little about air beds in general.
Sleep Number vs Air-Pedic Comparison Chart
SelectaBed compares their Air-Pedic 800 with the Sleep Number i8, so with us actually being able to review both mattresses, we wanted to deliver a quality comparison between these two models. Let's take a peek!
Sleep Number vs Air-Pedic YouTube Review
What is an Air Adjustable Mattress?
While most mattresses use memory foam, latex, or coils to provide support, adjustable air mattresses utilize air chambers. These air chambers are connected to a pump where sleepers can adjust the fill of the mattress depending on the level of support desired. Adding air to the chambers provides more support while letting air out of the chambers will provide less support.
Some adjustable air beds , like Sleep Number, come with a single air chamber on either side of the bed, but the best adjustable air mattresses come with multiple air chambers on either side. This allows users to independently adjust the firmness of the mattress through different zones.
Most air beds require electricity and are used in conjunction with either a remote, a mobile app, or both. This controls the fill of air and ultimately lets you customize your sleep experience. Some adjustable air beds may include sleep tracking and other smart technology features.
Is an Air Adjustable Mattress Right for you?
Adjustable air mattresses provide a wide range of customization making them a great choice for chronic pain sufferers and couples with different mattress firmness preferences. Additionally, if your body ever changes, your mattress can change with you. 
This means if you gain or lose weight, are pregnant, or suffer an injury, your sleep needs may change. With an adjustable air bed, your mattress can be adjusted to accommodate your ever changing needs. While there are many reasons to own an adjustable air bed, let's take a look at some of the most popular reasons.
You Suffer With Chronic Pain
Proper spine alignment is necessary when you are sleeping. This can be achieved when you have the right sleep surface. If you struggle with back pain, sciatica, bursitis, fibromylagia, or other chronic pain conditions, this can feel especially problematic. With an adjustable air bed you can target painful pressure points caused by these conditions by changing the fill of air.
You Share Your Bed With A Partner
Couples benefit from the dual-adjustability that comes with owning an adjustable air bed. No more compromising on comfort. If you prefer a firm sleep surface and your partner prefers a softer sleep surface (or vice versa), you can independently adjust your side of the bed to match your needs.
Another benefit of adjusting the firmness levels is sleep recovery. If you workout or are sore from standing on your feet all day, sometimes you need a little extra support to help your muscles recover. 
The added adjustability does come with a higher price tag. Airbeds typically tend to run a little more than other traditional coil and memory foam mattresses, so if you are shopping on a tight budget, this might not be for you. That being said, we spend a third of our life sleeping and it might be worth the investment.
Sleep Number i8 vs Air-Pedic 800 mattress Construction
Kool-Flow micro-vented bamboo viscous cover
Cover includes temperature-balancing benefits
1″ Hypergel Plush Top Cooling Layer
3″ Energetix Comfort Foam
1.5″ Gel-Infused Cooling Foam
2″ Resilienx Support Foam
6 Chamber, Multi-Zone Air System
Single Air Chamber on each side of the bed
Optional Patented Airflow Transfer System
Our findings when comparing Sleep Number vs. Air-Pedic
One of the biggest differences we noticed between Sleep Number vs Air-Pedic was the air chambers. The Sleep Number 360 smart beds come with a single air chamber on either side of the mattress. When lying on the mattress, this allowed air to get pushed to the head and foot of the bed, causing the mid-section to sag. 
It did not seem to be a problem when we had our Sleep Number set to a much firmer setting, but when we reduced the air level, it almost felt like we were sleeping in a hammock. That being said, Sleep Number does come with additional features such as sleep tracking and responsive air technology which are nice added benefits.
Air-Pedic, a popular Sleep Number competitor, has 3 air chambers on either side of the mattress. This allowed us to separately adjust the firmness for the head and shoulder region, mid-section, and hip and leg region. Ultimately, Air-Pedic performed significantly better in regards to support, especially in the lumbar region. We did not experience any mid-section sagging and experienced more consistent support levels.
Additionally, we opted for the optional patented Airflow Transfer System, which we felt gave Air-Pedic a slight advantage over Sleep Number in regards to breathability and cooling.
Get Up to $1400 OFF (select mattresses)

We have been sleeping on the Air-Pedic 800 mattress for the last few weeks and it has truly been some of the best sleep we have ever had.  The additional adjustable lumbar air chamber really makes a difference in the level of support, for proper spinal alignment, while also offering excellent pressure relief. 
The pump and remote are more simplistic compared to some other airbeds, but that could be good, especially for those who find new technology overwhelming. Their remote also has a memory button, so once you find your perfect setting, you can save it.
As we mentioned earlier, Air-Pedic does offer an optional patented Airflow Transfer System. If you are a hot sleeper, you will definitely want to consider this add-on. The Air-Pedic 800 comes with a viscous bamboo mattress cover for breathability, and includes gel-infused foam designed to pull heat away from the body.
The AirFlow Transfer System works with these features to further enhance breathability and cooling. The top layer of foam includes hundreds of holes across the surface of the mattress while the foam layer beneath features grooved channels. Together these foam layers work to dispel trapped heat and regulate temperature.
We also found that SelectaBed (The maker of the Air-Pedic) was very accommodating. For example, if you don't like the feel of the comfort layers above the air chambers, they will work with you to send out a softer or firmer foam layer based on your needs.
Air-Pedic's air chambers are made with medical-grade urethane. Why is this important? Traditional rubber can dry out overtime and cause cracks and fissures, much like an old rubber band. The medical grade urethane air chambers are mold and mildew resistant, increasing with the longevity of the mattress.
Both Sleep Number and Air-Pedic use CertiPUR-US certified foams. This means the foams do not use dangerous chemical flame retardants such as PBDEs. These foams are also free from ozone depleters, formaldehyde, phthalates, mercury, lead, and other heavy metals, as regulated by the Consumer Product Safety Commission.
Pros
Great for couples, because of adjustable firmness
Certified safe components by three companies (CertiPUR-US, GreenGuard and The Green Bear Mark of Excellence)
Breathable cooling benefits
Little to no motion transfer
Pressure relieving without losing support
Urethane chambers that are inherently mold and mildew resistant
Foam Made in the U.S.A.
Cons
Expensive
You might need additional time to find the right number firmness setting

Does not include sleep tracking

Up to $1000 OFF (select mattresses)
When you think of an adjustable air bed the first company that probably comes to mind is Sleep Number. They have been around since the 1980s, making them one of the oldest airbed manufacturers. If you're thinking that you don't remember Sleep Number in the '80s, that's because they were known as Select Comfort then.
The i8 is part of the Sleep Number 360 smart bed innovation series. The innovation series has more comfort and pressure relief than the classic or performance series. In addition, the innovation series also has temperature balancing benefits added to the mattress covers, as well as to the foam beneath.
The i8, along with all of the beds in the Sleep Number 360 series lineup are smart beds with one air chamber on each side. There are sensors inside of the bed that recognize your heart rate, your breathing rate, as well as how much you toss and turn during the night. This information will display for you on an app, via your iPhone, Android, tablet, etc., which connects to your bed via Bluetooth. 
In the morning, you will get a report, or score, of how well your night went. That being said, we felt as though the sleep tracking wasn't always accurate. There were nights we felt like we tossed and turned all night and our score would reveal something else. We also had issues with the pump staying connected to our Wi-Fi. So if you don't have a strong Wi-Fi signal in your bedroom, you could have a problem with connectivity.
In addition to the sleep tracking, the i8 also has responsive air technology. This helps to maintain your comfort and firmness setting, no matter if you are a stomach, back, or side sleeper, or if you change positions during the night. Rather than occurring in real time we noticed that the responsive air adjustments occurred approximately every thirty minutes. The pump does make some noise, so you can opt to turn off the responsive air if you are a light sleeper and don't want to be woken in the night.
The great thing about Sleep Number, is they offer airbeds for most budgets. Their C2 mattress, in a Queen, is priced at $1099. So in case the i8 is a little over budget, you have other Sleep Number options. Overall, the i8 has some really cool technology, backed by a company that has been around since the 1980s.
Common Sleep Number Complaints
Part of what we take into account when reviewing products is overall customer service and customer satisfaction. Regarding Sleep Number, there have been numerous complaints of transparency issues, in particular concerning the warranty and sleep trial.
It is very important to note that, while the mattress itself is covered under a 100 night sleep trial, if you purchase an adjustable base with Sleep Number, the base is NOT eligible for refund and is considered final sale. 
Other common complaints include pain associated with the mattress as a result of sagging and/or hammocking of the midsection.  We do recommend purchasing an air bed with multiple air chambers for both greater adjustability and greater support.
Related: Best Sleep Number Bed (a Buying Guide)
Pros
Dual adjustability
Sleep tracking
Temperature balancing
CertiPUR-US certified foams
Smart technology, ie- Responsive Air
Cons
Can have a hammock effect at times
Bluetooth connection can be faulty at times
Expensive
Sleep Number Bed Review & Comparison Conclusion
Shopping for a new mattress can feel overwhelming and ultimately choosing the perfect mattress for you boils down to your priorities. Air-Pedic is a popular Sleep Number alternative that boasts some clear advantages such as multi-zone air chambers for optimal support, a patented airflow transfer system for maximum cooling, and medical-grade urethane air chambers that are both bacteria and mold resistant.
On the other hand, Sleep Number offers sleep tracking and responsive air smart technology. The brand has a long history manufacturing beds and includes an extensive lineup including the c2 and c4 models, specifically geared towards budget shoppers.That being said, comparing the price points of the Sleep Number i8 vs the Air-Pedic 800, Air-Pedic comes comes in at a slightly lower price point with our coupon for $1,000. Simply mention ASL Reviews at the time of purchase.
Still undecided? Check out these best luxury adjustable air beds or browse through our mattress reviews to find your perfect mattress! And of course, feel free to reach out to us directly with a comment below. 🙂