No Pressure® Support for Every Body Type and Sleep Position
Great for:
Side, Back and Combination sleepers
Hot Sleepers
Individuals tired of conventional mattresses wanting something new
Individuals that suffer from chronic pain
Type – Purple Grid + Foam
Firmness – Medium
Sleep Trial – 100 Night
Warranty – 10 year limited
Shipping – Free Shipping & Returns
Up to $400 OFF Mattresses

Is the Purple Mattress right for you?
There is a lot of hype around Purple's brand name. Ask anyone if they've heard of the Purple Mattress, or tested one and they will likely jump into the conversation with curiosity and excitement. At ASL Reviews we caught the fever too, so when we got the opportunity to review the Purple Mattress, we had high expectations.
Does Purple live up to the hype? How can a mattress inspire so much enthusiasm? Find out in our unbiased Purple Mattress review.
YouTube Review of the Purple Mattress
What Makes The Purple Mattress different?
While most mattress companies are manufacturing beds made from memory foam, traditional coils or a combination of both (hybrids), Purple recognized some common problems they didn't want in their mattresses.
Memroy foam, while excellent at contouring and pressure relief, is known for running hot. Afterall, it is designed to work with your body's natural heat to conform to your curves. While many mattress brands claim to offer cooling technology some of them still fall flat in this category.
On the other hand, traditional innerspring mattresses, while generally better at cooling don't tend to be as good at contouring and pressure-relief. Innerspring mattresses also tend to rate poorly when it comes to motion transfer.
Purple came on to the scene with a fresh, innovative patented design (the Purple Grid) to combat these common problems. So what is the Purple Grid and how is the Purple mattress constructed, let's take a look.
Purple Mattress Construction
We tested the reinvented Original Purple Mattress, now simply named: The Purple Mattress. The new design is meant to offer better edge support and a new Soft-Flex cover. With a total height of 9.25″ let's dive into the layers:
Soft-Flex cover: knit fabric which is 29% Viscose, 67% Polyester, and 4% Lycra, though the cover is removable is not recommended to machine wash.  Spot cleaning is advised.
Fire Retardant: made from a non-toxic knit barrier, it is not chemically treated like some fire retardants are.
2″ Purple Grid now with edge support: The Purple Grid is made of Hyper-Elastic Polymer™, a soft pressure-relieving material that feels similar to a soft, spongy rubber or silicone. Designed in a grid formation the Hyper-Elastic Polymer™ has walls that support or fold against your body's pressure– this is known at Purple as "column-buckling".
3.25″ Polyurethane Comfort Foam: 1.8 lbs density foam, this layer acts as a transition between the denser base foam and the Purple Grid.
4″ Base Foam: 2 lbs density Polyurethane Foam. This acts as the support layer for the mattress.
Related: Purple Plus Mattress Review
Is The Purple Mattress Non-Toxic?
At ASL Reviews we feel pretty strongly about health and safety, not only for ourselves and our families, but for the environment. I'd read online there was concern for the polyethylene copolymer powder coating, so I had to do some digging.
The purpose of the white powder is simply to keep the Purple Grid from sticking together and becoming impossible to roll out during the compression and boxing process.
But is it safe? The powder is a non-toxic food-contact-grade material. While the exact ingredient make-up is not provided at this time (Purple is awaiting a patent) you can check out what Purple has to say on this issue on their blog.
All Purple foams are CertiPUR-US certified, meaning they do not contain harmful chemicals such as ozone depleters, formaldehyde, mercury or other heavy metals. They have a low VOC emission and there are no PBDEs, TDCPP or TCEP ("Tris") flame retardants. In fact, the non-toxic knit barrier Purple uses for their flame retardant has been Greenguard Gold certified, another certification ensuring low VOC in indoor air quality.
Purple's unique design deters dust mites, is hypoallergenic and has no off-gassing.
Purple's Unique Firmness and Feel
Purple is unlike any other mattress we have reviewed so far. Running your hand over the mattress you can feel the odd, grid-like structure. However, when we crawled into the bed we didn't feel it at all. That being said we have read reviews that the grid was felt by some users. You may find that you need a slightly longer break-in time to adjust to the bed.
Our perception of firmness varied a bit and this may be due to the unique way the purple grid collapses and bends to your body's weight. Overall though, we felt Purple was a medium firmness, meaning it could be a great choice for a variety of sleep positions.
It's important to remember that with all mattresses, firmness can vary quite a bit from one user to the next. Your height and weight greatly affect how you perceive firmness. The lighter you are the firmer the mattress will feel.  You will rest more on top of the mattress, rather than sinking in. As weight increases, your body will sink into the mattress more and you may perceive a mattress as softer.
Does The Purple Mattress sleep cool?
Purple is one of the best cooling mattresses we have tested. The honeycomb structure of the grid allows air to flow freely through 2500+ open air channels and since the mattress isn't made from memory foam you don't have the common heat retention problems.
No matter how cool your mattress sleeps, having the right sleep accessories is important to temperature regulation, as well as comfort. The Hyper-Elastic Polymer can be stretched up to 15x its resting state and as such Purple designed cooling sheets that would move and stretch with the Purple mattress. The sheets are highly stretchy and breathable, made from bamboo they are also moisture-wicking and cool to the touch.
Which Sleep Position Is The Purple Mattress Best For?
Purple's medium feel makes it an excellent choice for back and combo sleepers. Combo sleepers will enjoy the ease of transition provided by the Purple Grid– definitely no stuck in the mud feel here. Strict side sleepers will also be pleased as the "column-buckling" offers excellent pressure-relief and comfort. You get the contouring benefits of memory foam without the slow response rates!
While some stomach sleepers may get on with the Purple mattress, if you are a heavier stomach sleeper this might not be for you. Lying on your stomach some compression can be felt at the base of your spine. We would recommend heavier sleepers take a look at the Purple Hybrid or Purple Hybrid Premier, both of these options incorporate coils with the Purple Grid.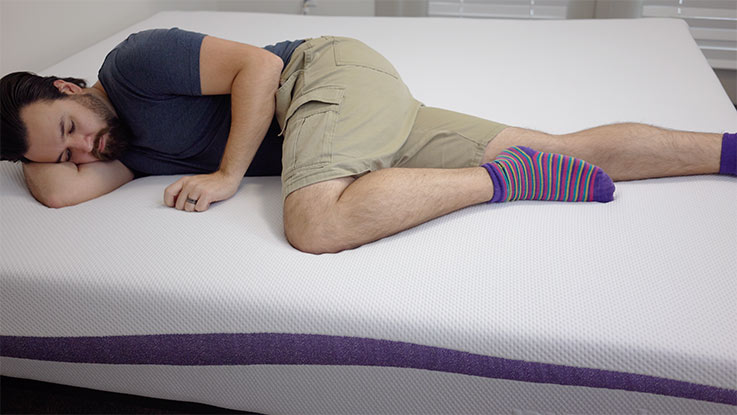 Is The Purple Mattress Good For Couples?
Several important factors affect whether a mattress will be good for couples. Motion transfer is important when sharing your bed because you don't want to wake up every time your partner (or pet) tosses and turns.
Purple performs surprisingly well! The walls of the grid buckle under your body weight but do a great job at isolating this movement. We felt little to no motion transfer when sleeping with a partner.
Edge support is another important consideration, the better the edge support the larger the surface feel of the mattress. Edge Support received a makeover in the re-invented Purple mattress, it now includes a foam border.
That being said we felt the edge support was still a bit lacking. While it may be better than the original, we still noticed a decent amount of compression which may make the mattress feel smaller. If this is a concern we suggest moving up a mattress size to accommodate.
Purple Mattress Purchase Details
Purple offers a 100 night sleep trial, if you are not completely satisfied with the bed you can return it before your sleep trial is up, they do require you keep the bed for a minimum of 21 days before you may request a refund. Purple's website does state that any interest accrued or shipping fees are not eligible for refund. Financing is also available through Affirm with interest rates as low as 0% (upon approval).
Free shipping and returns in the contiguous Unites States. Shipping to HI and AK are calculated at checkout.
Purple includes a limited 10 year warranty, only valid for the original purchaser.
Purple Mattress Sizing, Price and Weight
A Queen comes in at $1149. Purple does offering financing through Affirm for as little as 0% interest. 6/12/18 month financing options are available based on approval. Visit Purple.com for more details. See our coupon in the side bar for the latest deals and discounts or check out our coupon codes page for more great deals on mattresses.

What Mattress Foundation do I Need?
Purple Mattress Review Conclusion
We recommend the Purple mattress if:
You are tired of traditional mattresses and ready to try something new!
You sleep hot and want a bed that regulates temperature.
You are a back, combo or side sleeper.
Purple might not be the right fit if:
You are a heavier individuals (230+ lbs.)
You are a dedicated stomach sleeper
You want a more traditional feeling mattress (foam or springs).