Best Luxury Adjustable Air Bed Mattresses (Updated 2022)
An Adjustable Air Bed Buying Guide Including Popular Sleep Number Alternatives
Adjustable air mattress beds are an increasingly popular choice for sleepers who desire greater control over their sleep experience. Also, a wonderful choice for couples with different sleep preferences, the best adjustable air bed mattress allows you to independently select different firmnesses on each side of the bed. Dual adjustability is just another perk of choosing an adjustable air bed. 
Injuries, pregnancy, illness, and aging all affect our sleep needs. With an adjustable air mattress, as your needs change, your bed changes with you. After testing and reviewing some of the most popular and most comfortable adjustable air bed mattresses available today, the best rated adjustable air beds of 2021 are:
Best Adjustable Air Mattresses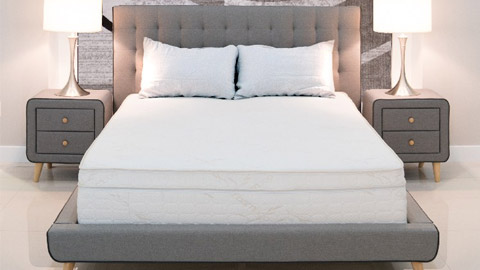 Type – Adjustable Air
Firmness – Variable
Sleep Trial – 120-Nights
Warranty – 30 year
Shipping – White Glove
Get Up to $1300 OFF (select mattresses)

When it comes to luxurious comfort it doesn't get much better than Air-Pedic. Chiropractor-designed, Air-Pedic blends support and comfort effortlessly, making it a leading choice for those who suffer from hip and back pain.
Chronic pain sufferers, such as those with fibromyalgia, sciatica, and bursitis, will appreciate the 6+ inches of plush foam layers. Designed to melt away pressure points, Air-Pedic foams and covering materials are made here in the USA with CertiPUR-US certified foams, meaning that they do not use any dangerous chemical flame retardants such as PBDE's, as well as ozone depleters, formaldehyde, phthalates, mercury, lead and other heavy metals regulated by the Consumer Product Safety Commission.
With 3 air chambers on either side of the bed, sleepers can target stubborn back pain by independently adjusting the firmness of the head, lumbar, and legs. Like Sleep Number beds, firmness levels range from 1-100, with 100 being the firmest. 
The air-fill is controlled through a simple, easy-to-use remote, which includes a memory setting, allowing you to save your preferred mattress firmness for future use. Overall, the simplicity of the controller makes it a great option for seniors and anyone who wants a luxury experience without too much complication.
Air-Pedic uses gel-infused foams and a bamboo mattress cover to enhance breathability and improve temperature regulation. For additional cooling benefits, hot sleepers may wish to add on Air-Pedic's patented Airflow Transfer System™, which further improves the breathability of the memory foam. Air-Pedic is a worthy consideration for anyone looking for the best adjustable air bed mattress.
Air-Pedic is available in several different models, but the luxury series includes the Air-Pedic 800, 850, 1000, and 1100.
Current Alerts For This Business
It appears as though this company has an increased number of complaints recently in relation to Delivery and Refund/Exchange. Find out more at https://www.bbb.org/us/ga/atlanta/profile/online-retailer/rest-0443-28164156/complaints
Best Adjustable Air Bed Featuring Smart Technology
Type – Adjustable Air Bed
Firmness – Variable
Sleep Trial – 90-Nights
Warranty – 10-year
Shipping – $199 (white glove)
The most technologically advanced mattress we've reviewed, ReST uses a responsive surface technology to monitor 2,000+ pressure points for real-time pressure-mapping. With 5 air chambers on either side of the bed, ReST allows you to make changes to your head, shoulders, lumbar, legs, and feet.
Controlled via the ReST app, sleepers can choose one of 3 control settings: manual, automatic, or auto position. Each side of the bed comes with a separate pressure map, allowing you to make adjustments independent of your partner.
Pretty self-explanatory, manual mode is where you will have the most options for customization. Auto position, on the other hand, lets you choose a firmness setting based on your preferred sleep position. Side sleepers, for example, require more pressure relief than stomach sleepers. When selecting side sleeping, auto position will automatically adjust the comfort levels to a softer surface feel.
Automatic mode, however, is where the ReST bed really excels! The responsive surface smart technology senses pressure and automatically adjusts the air-fill throughout the night. This is especially useful for combination sleepers who find themselves changing positions frequently. The ReST bed senses changes in pressure and adapts to your needs in real-time.
ReST also comes with gel-infused memory foam for enhanced cooling benefits. Additionally, ReST has partnered with some industry leaders, such as Purple and BedJet, to bring you cutting-edge technology. When you buy a ReST Performance mattress you can now opt between the original ReST Bed or the ReST Bed w/ Purple Grid. You can also opt to add on a BedJet climate control system that provides year-round temperature regulation, including heating and cooling.
ReST is not only one of the best adjustable air beds available, but a high-quality, feature-rich smart bed that is sure to please a large crowd. Read our full ReST Performance smart bed review.
Natural Form - Health Series Euro
Best Eco-Friendly Adjustable Air Bed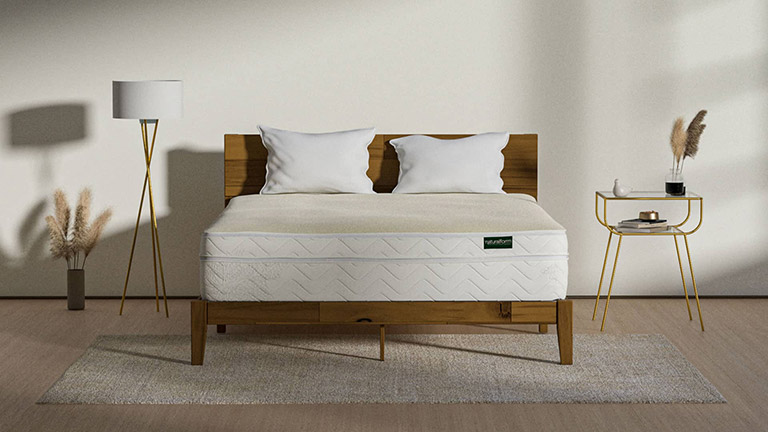 Type – Adjustable Air
Firmness – Customizable
Sleep Trial – 100-Nights
Warranty – 10 year
Shipping – Free Shipping or Opt. White Glove
30% OFF + $100 OFF w/code: ASLReviewsNF
While most adjustable air beds rely on electricity and Wi-Fi to work, Natural Form is completely electricity-free. Created to promote health and well-being, Natural Form has been used clinically in over 1,200 hospitals to assist with acute sleeping conditions such as degenerative disc disease, herniated discs, multiple sclerosis, and more.
Made from memory foam and Natural Form's patented helix air pods, this air adjustable mattress does not require any messy cords or noisy pumps. The mattress cover is made with Merino wool, which is both moisture-wicking and temperature balancing. In addition, wool is anti-fungal, hypoallergenic, and dust-mite resistant. Wool also acts as a natural fire-retardant, eliminating the need for harsh chemicals found in most fire-retardant socks.
Using only CertiPUR-US certified memory foams, OEKO-TEX certified textiles and Greenguard certified adhesives, Natural Form mattresses are made with safe, natural, and non-toxic materials. Lastly, Natural Form's manufacturing facilities are 100% solar-powered and leftover energy is distributed locally.
Natural Form is the leading choice for eco-friendly-conscious shoppers looking for the best adjustable air bed. Learn more in our full Natural Form Health Series Euro Mattress Review.
What's Inside An Adjustable Air Bed?
All mattresses, regardless of type, have some sort of support system. Where hybrids, innerspring, and all-foam mattresses use hi-density foam or springs and coils for support, adjustable air beds used trapped air. 
Adjustable air beds like Sleep Number use only a single air chamber while the smart bed, ReST Performance, has 5 air chambers on each side of the bed. These air chambers are connected to a Wi-Fi-enabled air pump that is controlled through a remote or an app. The air chambers are held inside a foam framework and topped with a comfort layer of polyfoam or memory foam.
How Does An Adjustable Air Mattress Work?
The exact mechanics for each adjustable air mattress differ from brand to brand. However, they all function by controlling the fill of air into and out of the air chambers. For a softer feel, the air bladders require less air-fill, while firmer settings require more air-fill.
Some of the best adjustable air beds on our list include smart technology, while others operate electricity-free. So now you know the basics of how they work, let's dive into specifics of our top picks for the best adjustable air beds.
Choosing An Adjustable Air Bed
One of the first steps in purchasing a new mattress is deciding on what mattress type is best for you. Whether opting for memory foam, latex, hybrids, or adjustable air beds, it is important to know the features and benefits of each type of mattress as well as the most common complaints.
Let's face it….choosing the right mattress is hard work. There is no one size fits all approach to comfort, and what is perfect for one person can be a nightmare for the next. Couples shopping for a new mattress may find this particularly true, leaving one or both partners compromising their comfort for the needs of the other. 
That's where adjustable air mattresses come in, with dual-zone adjustability, couples can get the exact firmness and support they need without sacrificing their needs. Couples with different temperature preferences, on the other hand, may want to check out the Pod Pro mattress by Eight Sleep, a smart bed that allows you to customize your ideal sleep temperature independent of your partner.
Couples aren't the only sleepers to benefit from an adjustable air mattress. Adjustable air mattresses are a great option for pregnant women, as well as those who suffer from back pain, hip pain, or shoulder pain. They are also a good option for athletes and those with active lifestyles. The ability to adapt your sleep surface to your ever-changing needs is what makes owning an adjustable air bed such a great option.
Sleep Number Alternatives
When you think of adjustable air beds, the first brand to spring to mind is likely Sleep Number. Sleep Number is easily one of the most recognizable names in the mattress and bedding industry with an extensive lineup that includes adjustable air beds and smart beds, as well as memory foam mattresses. But is this mattress giant the best? Should you consider a Sleep Number competitor?
The best adjustable air beds on this list are popular Sleep Number alternatives and definitely worthy of consideration before deciding which mattress to purchase. Our picks for the best adjustable air beds all give Sleep Number a run for its money, excelling in construction, cooling, technology, and more. See how Sleep Number compares to the competition in our adjustable air bed reviews:
Do Air Beds Work On An Adjustable Base?
Yes, adjustable air beds are compatible with adjustable bases. In general, adjustable air mattresses are suitable for use with most types of mattress frames and foundations. If you are planning to use your adjustable air mattress with a slatted frame, ensure that slats are no more than 3″ apart.
What To Know Before You Buy
When buying a new bed, you should always pay attention to the purchase details. Things like sleep trial, warranty, shipping, and return policies can, in some cases, make or break your buying decision.
Sleep Trial- The industry standard is around 90-100 nights. Companies like Nectar and DreamCloud have some of the longest sleep trials in the industry, giving sleepers a full 365 nights to try out their product.
Before you buy a new bed, check to see if there is a minimum number of days you must keep the bed before initiating a return. For example, some companies may ask that you test the bed for 15-30 days before requesting a refund. Adapting to a new bed can take time, especially if your old mattress was beginning to dip and sag.
Warranty- Here the industry standard is generally between 10-20 years. Out of the list of best adjustable air beds, Air-Pedic stands apart, offering a 30-year warranty. 
When comparing warranties, is it a full or limited warranty? Is the warranty or a portion of the warranty prorated? Are you expected to pay for technicians to service the product? Understanding these details fully, before making a purchase, will save you a massive headache later should problems arrive.
Shipping and Returns- While many of the mattresses we've reviewed offer free shipping and returns, this isn't the case with adjustable air beds. Adjustable air mattresses require some setup and as such normally come with white glove delivery. Depending on the company you choose, this fee can range from $99-$199. Natural Form is the only adjustable air bed on our list that does offer free shipping, though white glove delivery is also available.
Best Adjustable Air Bed Review & Conclusion
There is a lot to consider when purchasing a new bed. The best adjustable air mattress for you will depend on your specific needs. Chiropractor-designed, Air-Pedic, provides luxurious comfort and is a great choice for back, shoulder, and hip pain. 
While ReST is a tech lover's dream, designed for performance and recovery. A particularly good choice for combination sleepers, the ReST smart bed can make real-time adjustments, constantly adapting to your body and sleep position. 
Natural Form is used in clinical settings for acute sleeping conditions and could be a great choice for back pain caused by degenerative disorders, arthritis, and more. Additionally, natural materials and eco-friendly manufacturing make this adjustable air bed a leading choice for the eco-conscious shopper.